Stay On Top of Your Online Reputation and Local Listings
Online reputation today is more important than ever. Customers leaving negative reviews can easily destroy a business, so why not try to prevent it in the first place?  Our online reputation management, feedback, and local listing software trumps all others.
You get all of the following features for the price of one.

---
1: Manage Your Business Reputation
Encouraging customers to leave good reviews has never been easier.  The process is simple.  When a customer has an experience with your company, they will receive an email asking them about their experience.  It will ask them to rate you 1-5 stars and give you some feedback if they prefer.  All that information gets sent straight back to you.
If the customer gives you a rating of 4 or 5 stars
If you earned a good rating from the customer and they are happy with their experience, they will automatically get sent a follow up email, kindly asking them to leave a positive public review for you; providing them with the best possible links to do so. Satisfied customers are more than happy to do this for you.
If the customer gives you a rating of 3 stars or below
If the customer responds with a bad or average rating, the customer's experience with your company must have been off in some way, shape, or form.  The business reputation software will avoid any type of negative public-facing review about your company or organization just by catching them first.  Once you have all the info about your customers experience, you can then handle the situation as you see appropriate.  We've noticed employers use this as a way to catch internal inefficiencies and bad employees.
---
2: Manage Your Local Directory Listings All In One Place
There are many different platforms and online directories similar to Google Business and Yelp.  Managing your information on all of the different websites is a daunting task, to say the least.  Using our directory listings software, you are able to update 50+ local directories instantly, from just one dashboard.  The software is able to fix incorrect information, make updates to information (for example if you have different seasonal hours), and it can also claim any unclaimed listings for you.
This feature alone will end up saving you hours of hassle creating accounts and managing all of them.  Other competitors might claim to offer similar software, but the instant you stop paying them, all of your changes or information gets reverted like you never paid for the software in the first place! This idea is ludicrous. The advantage of using our listing software is that after the 1st year, you can cancel and we will not revert your listing!  You did pay for it after all!
---
3: Lots of Extras
There are a lot of other features that come along with this software package.  For instance, you will have the ability to respond to online reviews, questions, or comments on social media platforms and directories from the same dashboard your familiar with and more.  The team constantly developing this software keeps bundling more features into the same deal. For lack of time's sake, we aren't even going to try to keep up with them here! Let us demo the software for you!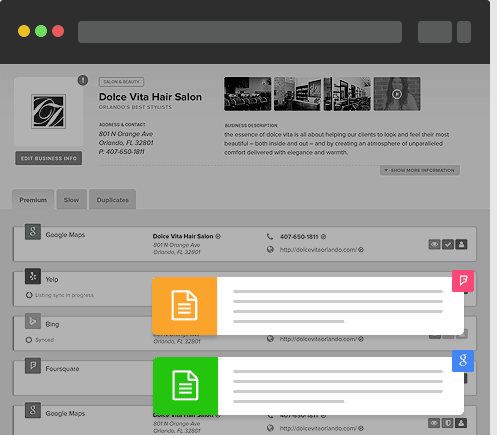 88% of consumers trust online reviews as much as personal recommendations
90% of customers say buying decisions are influenced by online reviews
90% of Yelp users say that reviews affect their purchases

---
Click the button below, enter a few quick bits of information and get an instant free business performance scan. After we show you a demo and get the information we need about your business, we can talk pricing.
Are You In?